Salt Lake City, UT –
November 14-18, 2022
65th Annual Biosafety and Biosecurity Hybrid Conference
Milwaukee, WI and Virtual –
October 14-19, 2022
DIA 2022 Global Annual Meeting
Chicago, IL and Virtual –
June 19-23, 2022
Embracing Diversity and Innovation in Research
Office for Human Research Protections (OHRP) and Northwell Health Forum –
May 11-12, 2022
Meridian Clinical Trials Summit
Virtual Summit –
May 9-10, 2022
Research Billing Compliance Summit
Virtual Summit –
March 8-10, 2022
BRANY Announces Integrated Service for Sponsored Clinical Research Studies
End-to-end solution is designed to help hospitals and institutions attract and administer sponsored clinical research studies
(Lake Success, NY) — BRANY today announced the launch of CTrials, an innovative end-to-end solution that offers a clinical trials administrative support service focused on helping hospitals and institutions accelerate their research goals. CTrials by BRANY is built around a culture of collaboration, customer service and caring.
"Virtually every clinical research center in the United States has been impacted by COVID-19, with shifting and reduced resources it can be a challenge for organizations to cover all aspects of clinical trials administration," says Paddy Mullen, BRANY's Chief Executive Officer. "Some of those impacts will be long-term, even permanent. CTrials by BRANY is an integrated, turnkey solution to provide supplemental support services to research administrators looking to advance their sponsored research programs."
CTrials by BRANY alleviates administrative burden from research teams by providing a cohesive service line that encompasses:
• Trial Procurement
• Study Start Up
• Budget Negotiations
• Contracting
• IRB Review
• Revenue Collections
"Finding, starting and managing a clinical trial program takes time, resources, and expertise," say Ms. Mullen. "But one of the most critical factors is the close and consistent coordination of many moving parts. Our goal, in supporting our clients, is to provide services in ways that are consistent with their research goals and align with their policies and standards"
To learn more about CTrials by BRANY, visit: https://www.brany.com/introducing-ctrials-by-brany/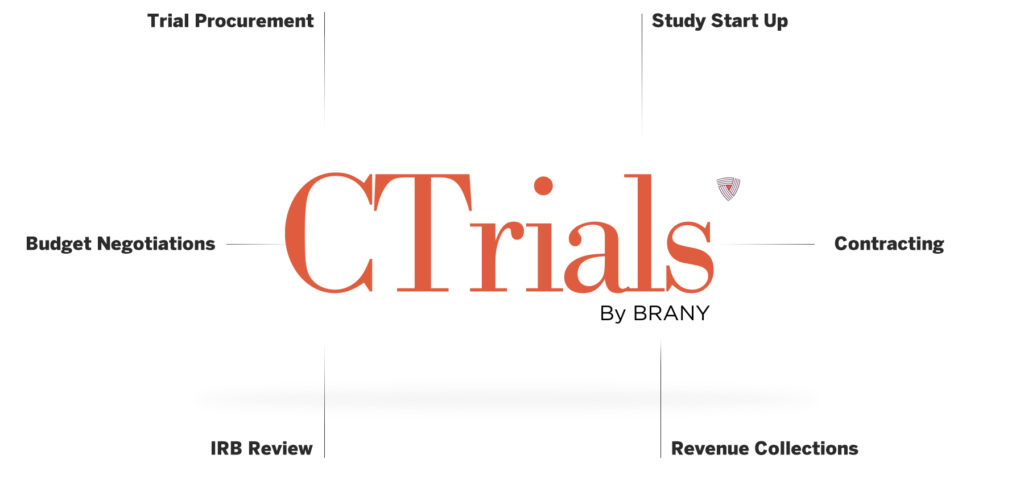 Reporting Changes to Research and Reportable Events due to COVID-19
BRANY IRB is monitoring the COVID-19 epidemic and has been notified that organizations conducting research have implemented guidelines to ensure the health and safety of employees, visitors, patients and research participants. In some cases, such guidelines may impact a research team's ability to carry out study procedures and visits as required. We recognize that this might result in protocol deviations, as well as the need for protocol amendments.
Be sure to follow your organization's requirements in response to the COVID-19 epidemic.
Regulations require the IRB to follow written procedures to ensure prompt reporting to the IRB of proposed changes in a research activity, and for ensuring that investigators will conduct the research activity in accordance with the terms of the IRB approval until any proposed changes have been reviewed and approved by the IRB, except when necessary to eliminate apparent immediate hazards to the subject.
If you need to make a change in order to eliminate apparent immediate hazards to the subject, this can be done prior to BRANY IRB review and approval. Such safety-related changes may include procedures to minimize potential exposure to COVID-19, or to continue medically necessary study interventions. BRANY IRB policy requires you report such changes within 5 days. Changes may be reported in the form of a protocol amendment, letter, memo, or other document containing sufficient detail for the IRB to assess the risk associated with the change. BRANY IRB is available to promptly review such changes prior to implementation as well.
BRANY IRB defines a protocol deviation as any temporary alteration/modification to the IRB-approved protocol. The protocol may include the detailed protocol, protocol summary, consent form, recruitment materials, questionnaires, and any other information relating to the research study. Deviations can be major (affect subject safety, rights, welfare, or data integrity) or minor (do not affect subject safety, rights, welfare, or data integrity).
Examples of minor deviations may include use of telemedicine and other modifications to minimize in-person visits when feasible, changes to study visit schedules, or a decision to temporarily pause enrollment of new participants. Minor protocol deviations should be reported in aggregate to BRANY IRB at continuing review or with notification of study closure, using the Minor Deviation Log. Please review the Information Sheet for Researchers – Reportable Events for more information.
BRANY IRB encourages researchers to consider the potential benefit of study participation versus the risk of potential exposure to COVID-19, and act accordingly. Researchers should also confer with study sponsors in all cases.
If you have any questions, please contact a BRANY IRB representative.
Asentral IRB Joins BRANY IRB (Biomedical Research Alliance of New York)
For Immediate Release
17 December 2019
Asentral, Inc. Institutional Review Board (IRB), based near the biotech hubs of Boston and Cambridge, Massachusetts, is joining BRANY, company officials announced today. BRANY will provide its full suite of IRB services to Asentral's current clients.
"Asentral was founded by research professionals with deep research experience, and has been instrumental as a central IRB for sponsors for over 16 years," said Raffaella Hart, Vice President, IRB and IBC Services at BRANY. "We are a natural fit with our cultures and dedication to human subject protection, as well as a delivering a high standard of service to clients."
"We are thrilled to become part of the BRANY family," said Asentral CEO Richard Clunie, who will remain on the team.  "In addition to BRANY's expertise in IRB review, our clients will receive additional benefits, such as the use of IRBManager, an online tool for managing IRB submissions and accessing documents."
This agreement reflects BRANY's continued interest in providing the highest level of ethical IRB services to individual researchers, academic institutions, hospital systems, and industry sponsors, including medical device companies.
About BRANY
BRANY was founded over 21 years ago and is owned by four leading academic medical centers: Icahn School of Medicine at Mount Sinai, NYU School of Medicine, Montefiore Medical Center and Northwell Health. BRANY is a national company providing research support services including IRB/IBC review, clinical study support services, HRPP consulting and research compliance training.