Virtual Pooled Registry Cancer Linkage System/BRANY Central IRB
BRANY IRB is contracted with National Cancer Institute (NCI) to serve as a Central IRB to review Virtual Pooled Registry – Cancer Linkage System (VPR–CLS) studies. The Common Rule requires use of a Central (or single) IRB for cooperative research.  Reliance on a Central IRB can eliminate redundancy and provide a consistent, high quality, expert review process that protects privacy and confidentiality while saving time and resources. 
To streamline the Central IRB application and review process for VPR-CLS studies, the North American Association of Central Cancer Registries (NAACCR) has developed a Templated IRB/Registry Application (TIRA -common form). BRANY IRB will perform their review using the TIRA and other supporting documents submitted with the VPR-CLS request.
The flow diagram below outlines the process for submitting to NAACCR and BRANY IRB.  
VPR-CLS Central IRB Submission Guidelines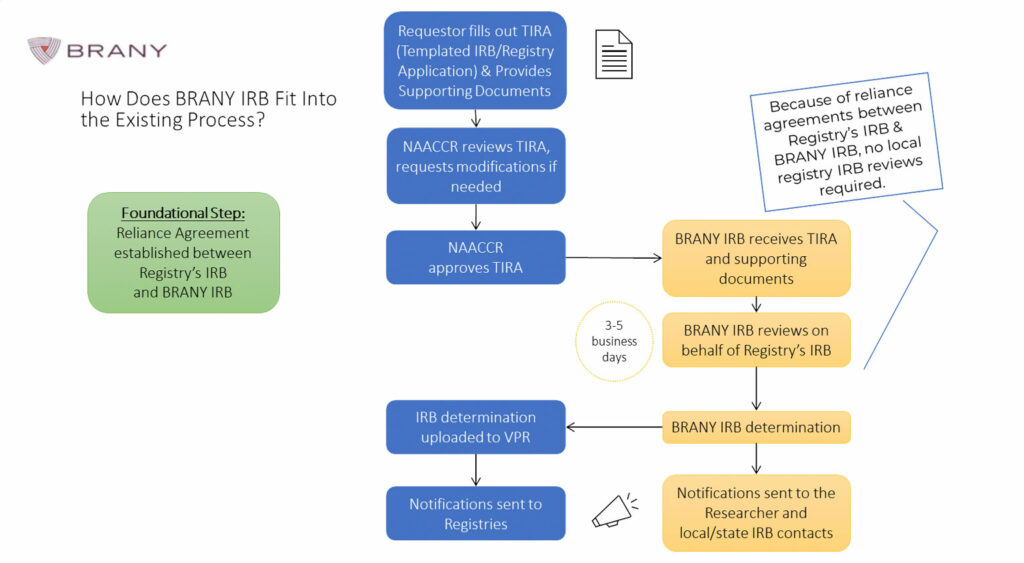 Recent Presentations